April 7th – the World Health Day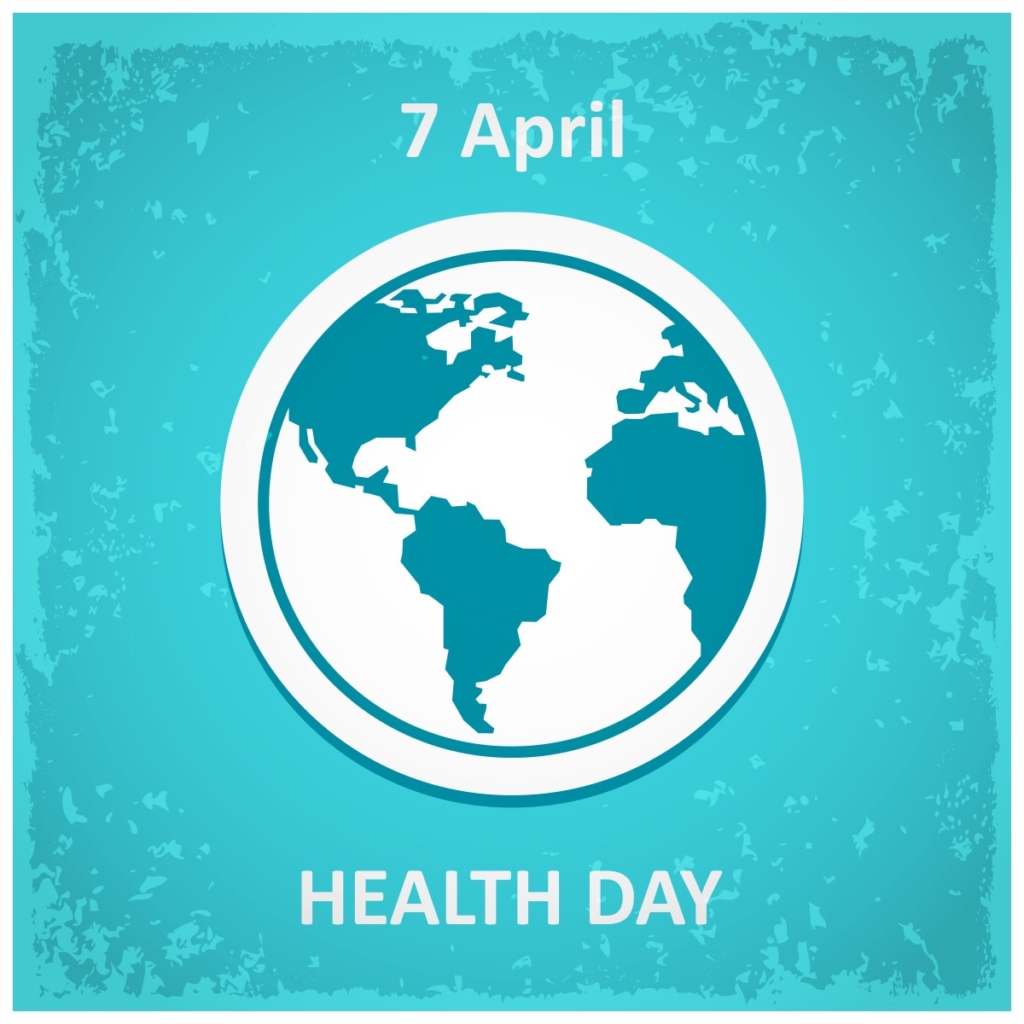 Did you know April 7th is the World Health Day?
Let's celebrate it as a way of life.
We hear a lot about health and healthy lifestyle nowadays. I remember when my husband visited me in Russia in our first year of knowing each other, he said: You guys live so healthy! I remember being very surprised, and not being quite clear of what he meant. When I moved to the States, I understood.
Back to hunter/gatherer/homesteader
In Russia we always cooked from scratch (lack or restaurants, absence of fast food back then), grew our own vegetables. Most families, even if they live in a city apartment own a piece of land outside of town, where they have 3-4 season cottage and a big vegetable garden/fruit orchard). We would be busy pickling, canning, freezing, drying and preserving, picking wild berries, and wild mushrooms.
Read the ingredients
So eating healthy is the only possible way, if we want to be and stay healthy. What does it mean? Reading ingredients and seeing what is inside the stuff we eat. I usually avoid packaged things altogether, just buy natural or organic meat/vegetables/fruit in the store. I bake my own organic sourdough bread. Use my garden produce. We keep chickens for eggs and raise our own meat birds, and harvest wild rice and venison when possible.
The list of things to avoid from the ingredient label (it is a big one):
corn syrup/high fructose corn syrup (it is highly processed product, most likely GMO origin, and is hard for our body to digest. As a nation in the last 40 years USA uses way less sugar (which is actually better), but 20 times more corn syrup. It increases triglycerides, boosts fat-storing hormones, and drives people to overeat and gain weight. I try to avoid all corn-related ingredients, I only buy organic corn chips, as a healthier alternative to any chips;
hydrogenated fats (including palm oil, margarin, crisco, shortening, I can not believe its butter and so forth). Those are the cheapest vegetable oils that have been treated with hydrogen to become shelf stable, turning the molecules inside of those products into trans- shape, that clog our arteries, and swim in our body like undissolvable globules of bad fat. Our body just can't break those down at all.
coloring/color added. Those FD&C Blue No 1 Lake and suchare synthetic colorants. This one in particular is used in It is used drugs and cosmetics, paints and plastics, cocktails, tinned fruits, biscuits, chocolate, dressed crabs, garlic sausage, luncheon meat, salmon spread pate, prepared eggs, stuffed olives, sweets, bakery and snack foods. Food colorings contain chemical Erythrosine that was found to cause cancer in rats in 1990. Red 40 Lake (also known as Red 40 Aluminum Lake). It is used in some tattoo inks and in many products, such as cotton candy, soft drinks, cherry flavored products, children's medications, and dairy products. It is by far the most commonly used red dye in the United States. All of those dyes have been banned in European Union. If you read research you will find that all those colorants are linked to HDHD and thyroid, adrenal, bladder, kidney, and brain cancers;
artificial sweeteners. You think you are safe, no sugar or corn syrup, lets do Aspartame (NutraSweet, Equal), saccharin (Sweet'N Low, SugarTwin), and sucralose (Splenda). But those are even harder on our metabolic systems than plain old sugar. These supposedly diet-friendly sweeteners actually do more harm than good! Studies suggest that artificial sweeteners trick the brain into forgetting that sweetness means extra calories, making people more likely to keep uncontrollably eating sweet treats. "Aspartame is a synthetic chemical composed of the amino acids phenylalanine and aspartic acid, with a methyl ester. When consumed, the methyl ester breaks down into methanol, which may be converted into formaldehyde." JUST DO HONEY or raw sugar if you have to.
Butylated Hydroxyanisole (or BHT) It is another cancer-causing preservative, but apparently marked safe by the FDA. It prevents food from spoiling. It is however, a major endocrine/hormone disruptor and gets them all out of whack. BHA is in HUNDREDS of foods. It's also found in food packaging and cosmetics;
Sodium Nitrates and Sodium Nitrites are park of most meat products like bacon, lunch meat, sausages and hot dogs. Studies suggest they can be linked to colon cancer and diabetes. If I buy those, I choose natural (no preservatives) or organic kinds;
MSG (or monosodium glutamate), a flavor enhancer, that tricks your brain into thinking that this food is delicious and thus wanting more of it. Can cause headache, sweating, burning sensation or chest pain. Ramen noodles, anyone?
Sodium Benzoate and Potassium Benzoate. These preservatives are sometimes added to soda to prevent mold from growing, but benzene is a known carcinogen that is also linked to serious thyroid damage. Dangerous levels of benzene can build up when plastic bottles of soda are exposed to heat. How long ago did you have that 7 up? Just use water and mix in some honey, lemon, chill it if you like, so much better for you!
Tertiary butylhydroquinone (TBHQ). Preservative that prolongs shelf life. Long term exposure to TBHQ may lead to neurological damage, increase the risk of lymphoma and cause liver enlargement, vision disturbances or DNA damage.
We read ingredients with my children every day, and discuss what we find. What I like to tell them is: What is our body made out of? Water, minerals, vitamins, protein, fat, carbs and that is it, right? If we add ANYTHING ELSE that is not on this list, our bodies, livers, kidneys, etc. then have to work extra hard to get rid of it. Just invest your dollars in better food and better health.
Good old fat
Use good old fat, like butter (organic and grass fed is the best), olive oil, avocado, nuts, good quality fish oil or just fish, good homemade lard (not processed hydrogenated lard from the store), WHOLE FULL FAT milk, yogurt, cottage cheese, kefir. You will feel full longer and your brain and body will thank you. If you give your body enough of healthy fats, it will drop that high cholesterol right down. And please eat eggs, they support healthy liver and provide choline that reduces bag cholesterol.
Fiber and probiotics
To keep digestion on time (once or twice a day is the goal), eat a lot of fiber daily, like carrot/beet/cabbage/apple/greens salads, whole grain bread, organic grain, vegetables and fruit. Use naturally soured products like sourdough, sauerkraut, kimchi, natural plain yogurt or kefir (just add honey and fresh or frozen berries) to keep it regular. Clean colon means long life.
Bake or boil your food, as opposed to frying or grilling. Or use real wood, gas or hardwood lump charcoal on the grill instead, they are safer and cleaner alternatives. Charcoal Briquettes leave a chemical residue on your food.
Movement is life
I grew up walking to school (5 minutes one way, but I would always stop by my friends first, and we would walk to school together, so that made it 10 minutes one way). Walking to my music school on the other side of town (20 minutes one way), walking to stores to get essentials almost daily (10-30 minutes one way). When I lived in St-Petersburg, Russia for 5 years going to college, I walked at least 3 miles daily. That is why I think most Russian ladies are skinny:-) They also hawl all their groceries for the day from store to their home, which is quite a load sometimes.
Move as much as possible. Park once, and walk in town to post office, store, bank and library. Take daily hikes. Fresh air, sun for vitamin D are essential for good mood and high energy levels. And how about yoga, belly dance or tai chi class? Call WITC or Velo Cafe in Cable to inquire about classes.
Anyone can cook
Last fall we went to a Bag River Reservation by Ashland for a history lesson with our homeschooling group. The lady was sharing her memories of her grandma. Grandma used to say to her, that the tribe used  to have a lot of really old folks, like 130-140 year olds. Our famous local Chief Namekagon lived to be well over a 100 years old and did not die a natural death (as far as I researched).  Then the living ages declined, when asked what changed, the grandma (it was 1932 at the time) said that people should not eat at the restaurants, as Natives noticed a connection between quality of food and health decline.
In my Slavic origin there are references to 140 year olds wise men and women. Can't we become some of them again?
Open up YouTube or cooking channel, get inspired to cook.
No to spoiled food
Avoid spoiled food. If in question, just throw it out. There are harbored bacteria and mold cells that are not great for our bodies. I say no to blue cheese too:-)
3 minute stretch
If you sit a lot at work or at home, every hour spend three minutes stretching, moving your body from side to side, walking in place. That moves the energy and lymph around and prevents stagnation in our tissues.
If you still smoke, reconsider, or start using local mullein plant leaves instead, like the Indians used to do:-)
Eat your weeds
Stop spraying the lawn, and eat your weeds instead (after 3 years). It is harder if you play golf, but wash your hands well after, as those golf fields have so many herbicides applied to them almost daily. The glyphosate is already found in some of the drinking water, we are poisoning ourselves instead. Canada already banned Round up, so can we.
This summer I will be teaching a wild edible ID class, call me to get signed up (715-798-3175) and come to learn that the dandelions for example are our best medicine.
Worry less or not at all. Don't sweat the small stuff, and the big stuff is actually pretty small too if compared to the eternity.
If you are mad, just express it safely. Storing it inside does not good.
Alcohol and liver health
Alcohol molecule is small, the absorption starts in the mouth already (3-5%), 20% in the stomach, the rest – in the intestines. Then alcohol gets to our main filter, the liver. Liver produces enzyme – alcohol hydrogenase, that is necessary for breaking down the alcohol. Then it turns into acetalhyde – toxic substance, that negatively affects the cardio-vascular system, damages liver cell, and even the DNA. Then that turns into acetate and later breaks down into safe components – carbon dioxide and vinegar acid. But if that process happens a lot, the health ultimately suffers.
More water, please
Drink more water. It is an active component of most body's internal reactions and processes, and the cleaner it is, the cleaner is our body. We can not live without water, or not as long at least.
Try to sleep at least 8 hours per day. It is restorative.
Find a purpose
If you are single, get married, or find good friends, a social hobby, let life be joy and fun again. If you have a skill let's share it. We have so many talented people around!!! How about creating a bank of people's skills, and do some weekly workshops at a local library or something, you can teach those youngsters a thing or two, right? If you are interested, talk to your local librarian to see how that can be done, they are always looking for class ideas.
Image credit: Background vector created by ibrandify – www.freepik.com