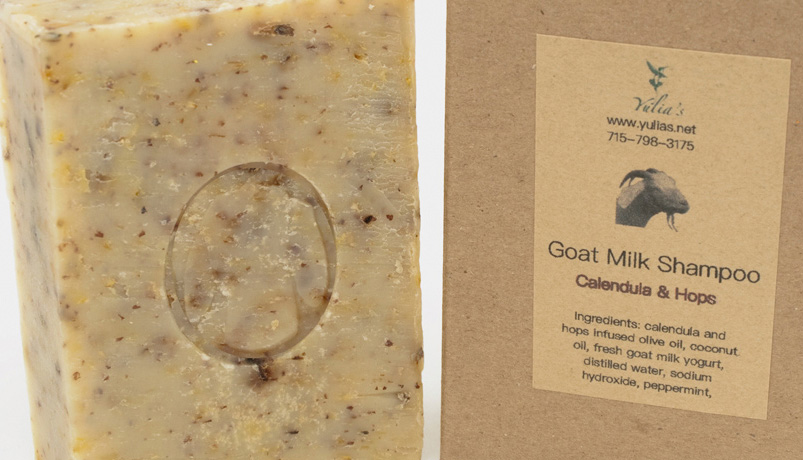 At Yulia's we created two natural goat milk shampoo bars that will wash and condition your hair. This article includes more information and a video on how to use the bars as well.
We get a lot of questions about how to use a shampoo bar.
We have created this video: Click Here To View My Shampoo Bar Youtube Video
Our shampoo bars are made with pure ingredients
Our shampoo bars are made with pure ingredients: olive, coconut oils, goat milk, infused with beneficial herbs (nettles, henna, horsetail, calendula, hops) and 100% pure essential oils. The shampoo bars are ecological (paper wrapper, no plastic bottle to throw out) and economical (one bar will last you longer then a bottle of shampoo, and you don't need to pay for water). You can use our shampoo bars while camping or traveling, and you can wash your hair in a lake or waterfall because it is clean and safe for the environment.
If you are switching to a natural bar shampoo, it might be a good idea to use a vinegar rinse for the first couple weeks.  1 TB vinegar per cup of water, rinse your hair with it after washing, and rinse again with clean water. Vinegar will help to clean the hair of silicone and other chemical residues.
If you are trying to have healthy hair it is nice to minimize the washing times. Instead of washing every day, try every other day, then every two days, etc… The more frequent you wash you hair, the quicker it gets oily. Commercial shampoos strip your hair off oils that your scalp is producing. If it happens every day, your scalp is going in a frequent mode overproducing the oils.  Once you slow that down, the scalp will get used to less frequent washes, and won't work as hard.
Also, we recommend air drying your hair to avoid excess drying and your hair becoming brittle. Also trimming your hair periodically helps with maintaining beautiful ends.